We can help you find the EV that matches your lifestyle.
Compare the cost of your selection to a similar gas vehicle. An EV can save you money because it can be cheaper to own and maintain than a 100% gasoline-powered car.
Volvo
XC40 Recharge Twin Pure Electric
Electric Range359 km
Estimated Incentives$5,000
Kia
EV6 Standard Range RWD
Electric Range373 km
Estimated Incentives$5,000
Volkswagen
ID.4 Pro
Electric Range443 km
Estimated Incentives$5,000
Tesla
Model 3 Long Range AWD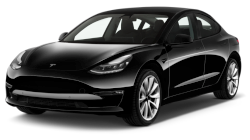 Electric Range576 km
Estimated Incentives$0
Explore potential EV incentives and tax credits
See how much you could save getting behind the wheel of an EV, whether you are buying or leasing.
Incentives are personalized for where you live.
Personalize Incentives